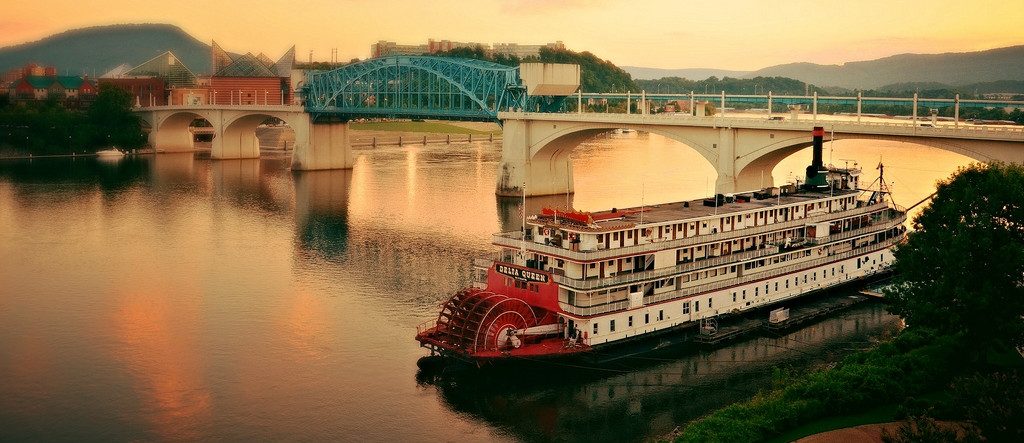 The Legendary Delta Queen now moored in Chattanooga, the last fully operational, overnight passenger steamboat in the country, is the newest landmark Chattanooga hotel. This grand lady had logged over two million miles, carried over half a million passengers and is the only boat to be inducted into the National Marine Hall of Fame while still in service. She has entertained Presidents, foreign dignitaries and a multitude of celebrities.
Chattanooga accommodations are right in the middle of the vibrant North Shore scene at Coolidge Park Landing. Plenty of self parking is located near our dock and available to the guests. The Delta Queen is a quick drive or an enjoyable walk (across the Pedestrian Bridge) to the Southside of the Tennessee River and the heart of downtown Chattanooga where many area attractions reside such as the Tennesee Aquarium and Hunter Museum of Art.
The Delta Queen offers an ideal base of operations for your exploration of Chattanooga attractions.  All aboard for a unique Chattanooga hotel experience…
In addition to being one of the most unique Chattanooga hotels, the Delta Queen will feature live music on specified nights, romantic views overlooking the Tennessee River and fun in the Texas Lounge. Group tours are available, allowing visitors to learn first-hand about steam technology and the colorful history of a legendary paddleboat. Private parties and weddings are welcome onboard the Delta Queen Hotel.
So, if you're looking for something extraordinary among the offerings of Chattanooga hotels, right in the middle of the action, with a bed rocking to the rhythm of the Tennessee River, the Delta Queen is your choice for an unforgettable stay in the Scenic City.